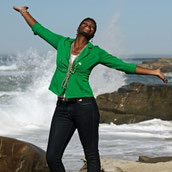 I once let fear hold me back from a number of things. Fear told me that I wasn't good enough and would be laughed at... I would get my heart broken...being what others wanted me to be was better than being a unique individual, ME. So, I listened to fear and stayed in my small protected box with little air to breathe.
 
My number one question to you is, what are you afraid of?
Are you afraid to simply try? Afraid to fail? Do you wonder what "they" will say?

Many of us have experienced the unfortunate effects of fear.
Fear will paralyze you. You will stay stuck in the same spot. You rarely try new things. You are always so focused on what may go wrong...right?
My last question is, what would happen if you stood up to fear, and decided to just TRY?
You may find out that the chance you took wasn't so bad. You may see that the effort you made put you a step closer to your goal. You may discover that fear was only in your mind and has NO power. :-)
 
I was truly BLESSED when I finally discovered the power I have over my life! Life was starting to give me plenty of lemons and fear was starting to rear it's ugly head-again. But, I stopped listening and kept going! And guess what? I made refreshing lemonade!
 
I took a leap of faith, trusted myself & God, and redesigned my life the way I wanted it. That included leaving my life (as I knew it) in Chicago and starting over in an unfamiliar state. I came all the way to Cali from the mid-west. Yikes! I changed my career as a School Counselor and started my own business, as well.
 
Don't get me wrong, it wasn't easy. I took it all step-by-step. My journey was full of uncertainties and personal obstacles. But, by then, I refused to acknowledge fear and knew it was time to pursue what I wanted out of life, in spite of the lemons. I knew I deserved a better life with more happiness and fulfillment. I also realized that I had a better support system than I once had and I was not alone. They believed in me and were cheering me on!
My experience has helped me redefine my unique life purpose, which is:
"To be a living testimony by demonstrating that God's grace and resilience exist and personal aspiration is not in vain. Finding your purpose, self-worth, God ordained happiness and peace in life can be attained."
 
It is very easy to find a reason not to do something. But, don't let fear paralyze you! Live the life you deserve. Remember your power and take that first step; utilize the support you have or go out and find the help you need. That, my friends, is living fearlessly! ;-) You can do it, too!

Share this article.